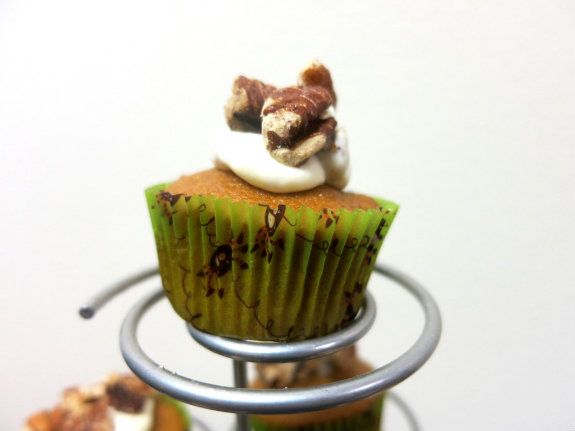 Every now and then during the holidays I feel like bringing out my crafty "domestic" side. Then, somehow, I get too busy and things fall through the crack. Well this Halloween I was more than determined to make something, no matter what. After researching online, I found a Pumpkin Spice Cake recipe that I converted into mini cupcakes. See below for the quick, easy directions to make this super deliciously moist dessert. Hey, if I can make it, so can you!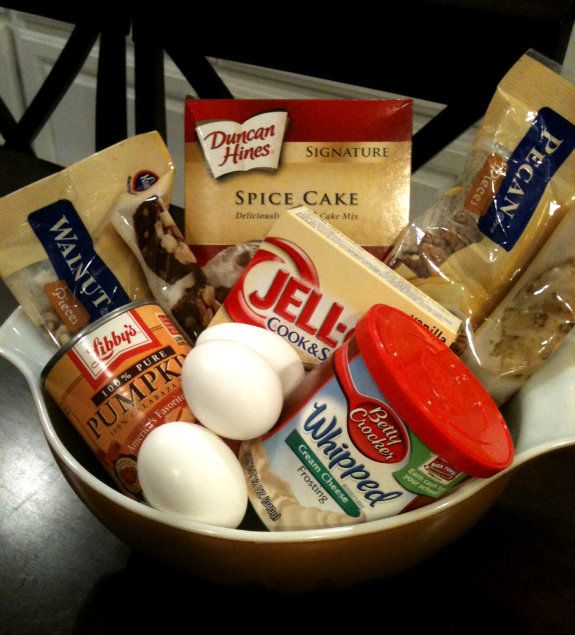 1. GATHER your ingredients: 1 package spice cake mix, 1 package (3.4oz.) JELL-O vanilla flavor instant pudding mix, 1 cup mashed cooked fresh pumpkin (I used canned fresh pumpkin), 1/2 cup oil (I used Kirkland olive oil), 1/2 cup water, 3 eggs, cream cheese frosting (I used the whipped version because I wanted it to be light), chopped pecans (& walnuts if desired)
2. HEAT oven to 350 degrees while you prep (for about 30 minutes).
3. ADD these ingredients into a large bowl: spice cake mix (tip: I sifted it first so there wouldn't be any clumps), JELL-O vanilla pudding mix (as is in powdery form-don't make the actual pudding), cooked fresh pumpkin (tip: if you want to use it fresh then cut pumpkin into slices, wrap in plastic wrap, & put in microwave to warm up a bit) OR canned fresh pumpkin (what I used because it was just easier for me and I just eyeballed what a cup would be), oil, water, & eggs
4. MIX them until well blended (tip: use a hand mixer if you have one, it's so much easier & saves you lots of time)
5. POUR blended mixture into cupcake wrapper OR pan (if you want to make a cake instead)
6. BAKE for 12-15 minutes for mini cupcakes OR 32-35 minutes for cake (tip: do the toothpick test, if you insert the toothpick in the middle & it comes out clean then it's done baking) and let cool
7. TOAST pecans for 8-10 minutes while the cupcakes/cake is baking (tip: try to time it so they'll be done around the same time)
8. SPREAD cream cheese frosting (tip: get a sandwich bag, scoop some frosting in it to one of the bottom corners, cut a small diagonal line, & voila! You've got yourself a homemade frosting decorator tool at your fingertips!) on top as desired (tip: make sure the cupcake/cake has cooled by this time otherwise your frosting will just melt from the heat)
9. SPRINKLE the toasted pecans (& walnuts) on top as desired.
10. DISPLAY them on a nice rack and it's ready to serve!
I was using a 12 piece mini cupcake baking tray and with this mixture I almost made 100 mini cupcakes. Yup, I said almost 100! Probably around 80-90 which was more than plenty to share (little sisteroo brought some to work and so did I). Since I was baking the mini cupcakes for roughly 12-15 minutes each time, it took about 2 hours (give or take) to finish everything. I only had 1 baking tray so I highly advise in investing in at least 2 because those mini cupcakes are so tiny, it seemed like forever until I finally finished using all the mixture.
Another tip: this Pumpkin Spice recipe is also great for Thanksgiving coming up. Feel free to try it out and let me know how it goes!
Bon appetit!~!
Sending love,
kimberly
-xoxo-
Instagram/Twitter Me: @kimberly_luu