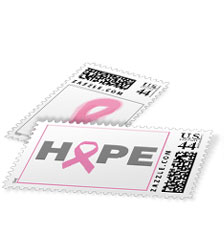 1. Breast Cancer bag
2. Breast Cancer stamps
3. Pink Ribbon Golden Angel Pin
4. Pink Ribbon Tin Cookie Cutter
5. Pink Ribbon Pot Clips
6. Breast Cancer Scarf
7. Pink Ribbon "Fight Like A Girl" Wine Glass
8. Pink Ribbon "Lolita" Champagne Glass
9. Rose Swarovski Crystal & Charm Earrings
10. Breast Cancer Ribbon Necklace - 14K Yellow Gold with Pink Sapphire
PINK
is the color for this month. Wear pink. Purchase products that are pink. Think pink! I am a proud supporter of products that bring awareness to consumers about breast cancer. I have a Swarovski charm bracelet, rubber bracelet, pink Swarovski cell phone charm, book bag, candle, stamps, etc.
The Susan G. Komen Foundation is a wonderful organization committed to the research and cure for breast cancer. They have a walk-a-thon every year. This year I wasn't able to participate because I was out of town but I would like to next year. The foundation also partnered up with Yoplait yogurt and created the "Save Lids to Save Lives" campaign in an effort to raise $1.6 million. All you have to do is save your pink lids (clean them of course) and mail them to the address indicated on the back of the lid. I am definitely participating in this and happen to just buy a bunch of yogurt the other day at Albertsons (they had a 20 for $10 promo). Sounds like a win-win deal: I get to enjoy my yummy yogurt AND contribute to an organization that I respect. For each lid, Yoplait will donate $0.10 which in time adds up if you spread the word to friends and family. So please help out.
For more information on the Susan G Komen Foundation, click
here
.
For more information on the "Save Lids to Save Lives" campaign, click
here
.