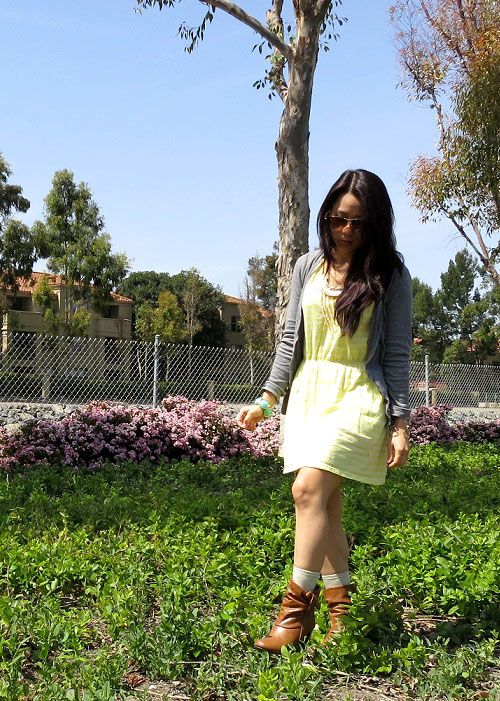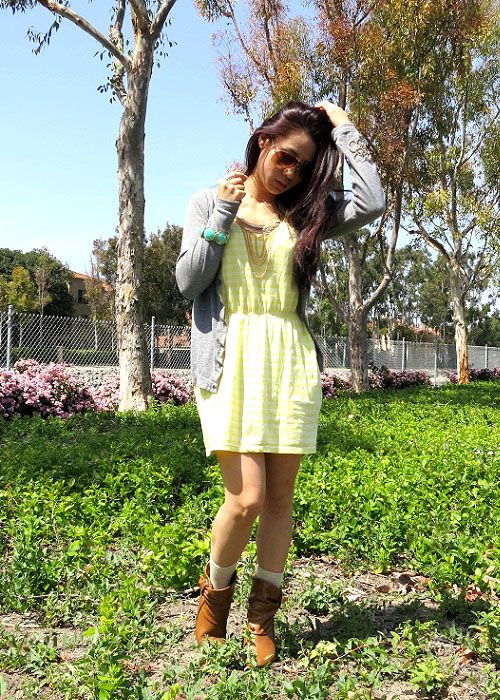 Outfit Details: Volcom dress, unknown cardy/sunglasses, Bamboo boots, Charming Charlie/F21 accessories
Sunny bright lights in a field of grass. That's how I imagine hiking would be. Something I am aiming to do (at least once) this summer. Preferably one with not too much sun and with a waterfall at the end of the hike. Anyone know of a place in local OC?
I'm not much of a stay-outside-in-the-sun kind of person but, of course, I'll make exceptions. This past weekend it was such a nice day outside that my little sisters and I, along with some friends, went to Huntington Beach to play some volleyball and chill out in the sun. Let me tell you: I haven't played volleyball probably since high school but surprisingly we all did pretty well and had a couple good rallys going on. Now I'm left with horrid bruises (no exaggeration) on my forearm that it looks like someone beat me up - but only on my hands. No lie! I bruise like a peach (is that what they say?) so pardon my purple arms in some future posts. Don't worry I'm okay. Just can't carry so many things on my hands until they heal. Oh well, good thing I have the bf to help me with that!
Sending love,
kimberly
-xoxo-