ATTENTION! In case you haven't heard, there is a Mr. Pickles now in the OC. In fact, it's down the street from me (literally) in Huntington Beach.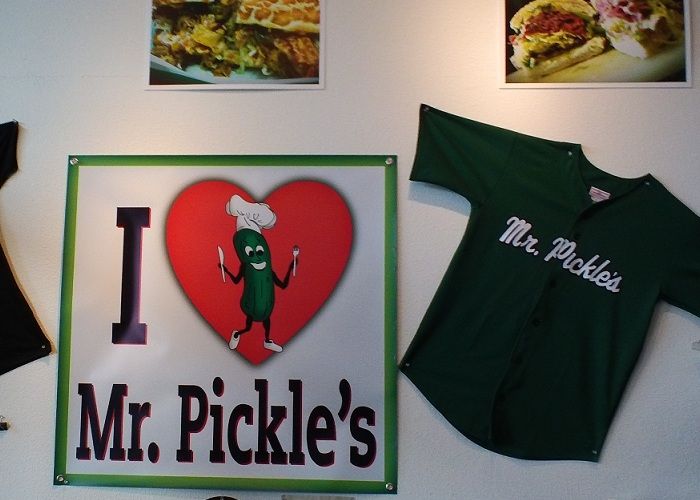 Thanks to my lovely friend Melodi for introducing me to this amazing sandwich shop. She used to live in San Francisco and this was one of her top 3 sandwich places up there. So when she found one down the street, we just had to check it out. Since then we've been going here almost every week. Yup, we are that addicted to this place and I'm probably going to gain 5 pounds now!

Big Jake on the Dutch Crunch Roll
Pulled Pork on the Dutch Crunch Roll
House Combo on the Dutch Crunch Roll
The Mr. Pickle on Dutch Crunch Roll

Okay, are you starting to see a pattern? That Dutch crunch roll is such a delicious combo of crunchy and soft textures. Try it at least once! If you don't like crunchy bread, they have a great sweet roll too (the bf liked this one better cause he likes soft breads on sandwiches). And all the sandwiches were really good! My ultimate favorite though was the first one I tried: The Mr. Pickle; everything about it was perfection. The bf's fav was The Hot 'T' (not pictured but it had turkey, baja & cranberry sauce). Slowly, Melodi and I are sampling all the sandwiches. I've tried 6 so far so another 15+ to go? No problem!
Want to know what else is amazing (I know, can there be any more amazing news about this place)? They also give a free cookie with each sandwich! Talk about enjoying an awesome sandwich and ending it on a sweet note. This, my friends, is all you'll need.
Bon appettit!~!
Sending love,
kimberly
-xoxo-
CHECK IT OUT: For the nearest Mr. Pickles near you, click
here
.
P.S. The sandwich is HUGE so sharing is a must. Or, save the other half for later. ;)