Last weekend, my little sisters (aka sisteroos) and I went to
San Diego
to celebrate one of our girlfriend's birthday. Like most days, I wasn't really sure what to wear. Usually something catches my eyes and I work an outfit around that but this time, nothing was popping in my head (it could be because I still have to finish hanging all my clothes and haven't done so yet...). Finally, between switching from my walk-in closet to my standing wardrobe, I decided upon this leopard print top my sweet
Kel bell
gave to me. When I first put it on, I paired it with shorts since it's been so so hot lately. I didn't like it. Too casual. So off it went and I aimlessly looked around my room again for something else to wear...and there it was. The answer to my dilemma! Hidden in my clean laundry basket was my
Forever21
fushcia skirt I bought not that long ago during a lunch shopping trip with my coworker. I threw it on and BOOM! Match made in heaven. Had my perfect outfit for the night and it only took me 10 minutes! Okay, maybe 15 lol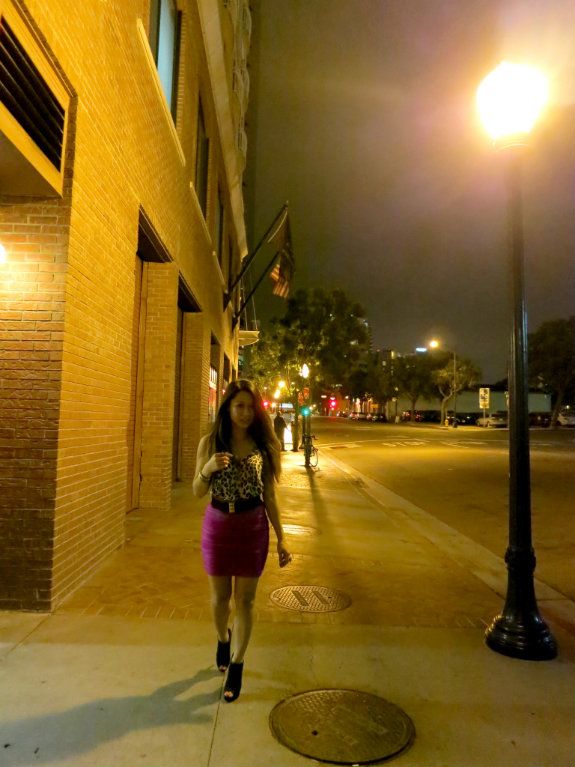 Luckily San Diego isn't too far from OC, about 1.5 hours depending where you're going. The hotspot, though, has got to be downtown SD at the
Gaslamp Quarters
so of course we went there. I usually like roaming the streets and trying some of the food here (since we've already drove for so long) but this was a quick one night trip so we met up the birthday girl and painted the town. It was kind of random but I liked it. Definitely a fun night with great people. Can't complain about that!
Happy birthday to my beautiful Linh! Isn't she so gorgeous? AND she's smart! Beauty + brains = hotness in my book!
Hope you're all drinking lots and lots of water! Have a great Labor Day weekend Everyone!!
Sending love,
kimberly
-xoxo-
Instagram/Twitter Me: @kimberly_luu
P.S. Sorry for the slightly blurry photos. The Canon S100 does not take as good of night pictures as the Canon S95 did. :( Man I miss that function! Hope the next Canon has it cause if it does, I'm going to upgrade! ;) And the last pic was on my camera phone so it's not as clear...oh wells.