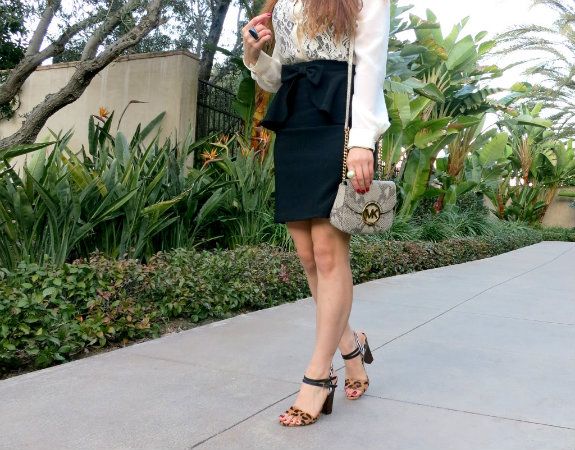 Outfit Details: lace blouse, bow peplum skirt, Michael Kors bag (Xmas gift from Jud), mint Jewelmint ring, Shoemint "Carol" heels
This past weekend I went to a girlfriend's baby shower and it was absolutely amazing! The decorations were oh-so-cute with tons of different types of food (beef stew, spicy papaya salad, pasta, fried rice, nachos - just to name a few) and an awesome candy bar (where you could've found me). On top of that, she had so many "baby" games going on that I didn't even get to play it all! It seriously felt like I was at a carnival. Nonstop goodness, nonstop fun.
And since it
was
a baby shower, I felt my inner
Gossip Girl
coming out and went for a sophisticated look. I've been wanting to wear this lace blouse with the bow peplum skirt for a while now (since Thanksgiving, actually) but never had the "right" occasion to wear it (or I just wasn't feeling it at that time and ended up wearing something else instead). So I was super happy to
finally
wear this outfit at the perfect occassion! Strapped on my
Shoemint
leopard/zebra heels (one of my current favorite items) with my snakeprint
Michael Kors
bag (Xmas gift thanks to my sweet jud) and I was in total GG style! Yup, Serena and Blair would have definitely approved this Upper East Side outfit. ;)
What about you? How do you make your fashion outfit decisions? By occasion or mood? I'm guilty of both!
Until next time,
kimberly
-xoxo-
Instagram/Twitter Me: @kimberly_luu