Ahhh the
Grammy's
- the biggest music award show all year long! What a night where singers of varying music genres all gather under one roof to celebrate each other. Hip hop, country, r&b? Yup, they're all there (imagine how many performers that is!). Pretty cool, if you ask me.
As for my top 5 fashion f aves for the
Grammy's 2013
, it was pretty easy to make my decision:
1. Rihanna wearing Azzedine Alaia - she was absolutely STUNNING in this gorgeous gown! (I probably told the bf that like 5+ times throughout the show too haha)
2. Taylor Swift wearing J. Mendel - I actually saw the back of this dress first, not knowing who it was, and fell in love with it right away.
3. Kelly Rowland wearing Georges Chakra Couture - very cool geometric cutout design
4. Rihanna (again) wearing Archive Luciano Soprani - really liked this sparkly look she wore while performing a tribute to Bob Marley
5. Carrie Underwood wearing Theia - the dress was simple (not my fav) but you have to give two thumbs up for how they got it to light up (the 3rd pic reminded me of a modern day version of Cinderella)
FASHION TRENDS FOR THE NIGHT: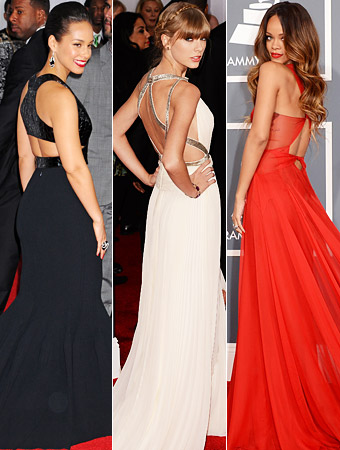 Open back dresses
All black gowns
Surprisingly, I was expecting more fashion favorites at this award show but there weren't that many.
Let's face it though. It was Rihanna's night and she gets the award for Best Dressed, no doubt! Which one of her looks is your fave?
Well, since it
was
the
Grammy's
, did you have any fave musical performances? I really liked the Bob Marley tribute with Bruno Mars, Rihanna, Sting, and the Marley's sons - such an awesome collaboration.
Stay tuned for my next Top 5 Fashion Faves!
Until next time,
kimberly
-xoxo-
Instagram/Twitter Me: @kimberly_luu