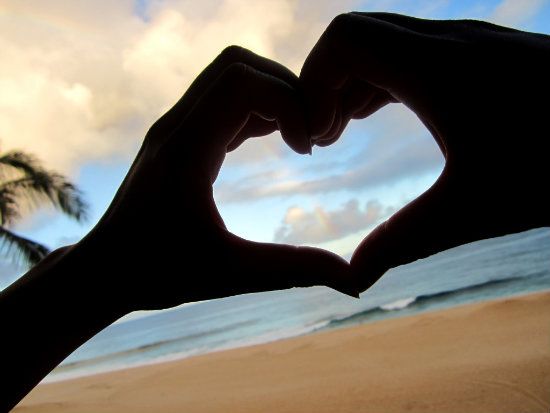 Hmm...where do I begin? This was our last "full day" in
Hawaii
so we wanted to make the most of it. First thing we saw when we woke up? A beautiful rainbow outside our window.
LOVE.
Got ready for the day and went down our 3 flights of stairs (the
Volcom house
is super huge and super cool I tell you!) to help Judybug with breakfast. (Okay, more like she cooked and I set the table haha) Funny how we had a full kitchen and this was our first time eating at the dining table. It was pretty romantic and sweet. Sighhh breakfast at the beach anyone?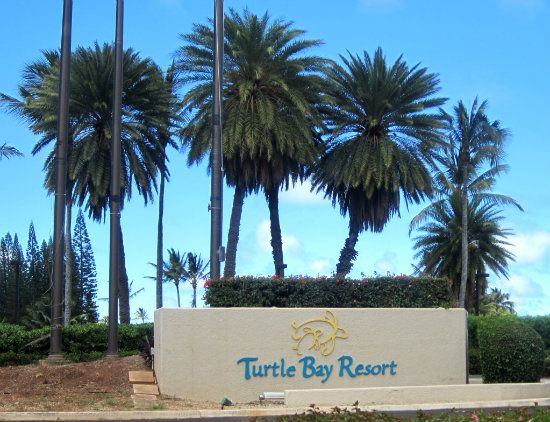 Afterwards we went to check out
Turtle Bay Resort
. As we were on a mission: finding those popular
sea turtles
that swim up to the shore in
Hawaii
!
Looking for sea turtles? Try Turtle Bay Resort? We figured this would be the spot to go. The name says so and there's a picture of a turtle on their sign too!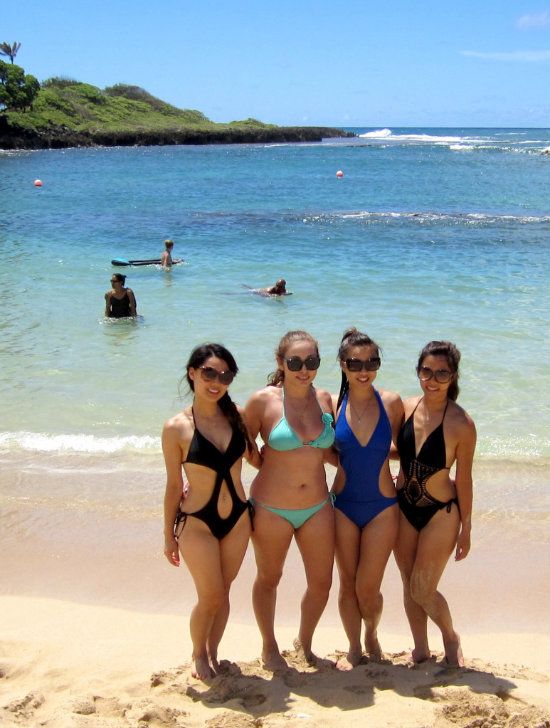 Kaf & Jud went snorkeling first to find some sea turtles and apparently there wasn't any here at the Turtle Bay. Whattttt??? How confusing right? Oh well, no problem. A kind local told us where to go where we could for sure see them. And off we went.
Randomly, this blue stop sign was in the parking lot. Yes, it's blue. Had to take a pic as proof otherwise you might not have believed me (I wouldn't have haha).
We made it!! Woohoo! Nah just kidding, we only made it to Chuns Reef. So we soaked in some sun then off we went. Again.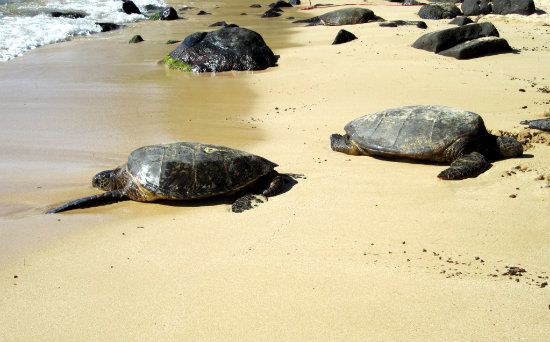 Finally! Finally? Oh yes we made it to
Laniakea Beach
and saw the
sea turtles
resting on the shores of
Hawaii.
Just like the way everyone described it. So cute to see them chilling there! (They're actually pretty big turtles) Mission accomplished!
Now that we finally saw the sea turtles and checked that off our list, Sus and I got suited up for our turn to go snorkeling. To be honest, I was a little scared. I wore contacts and feared that water would get into the mask and I'd somehow lose one of my contacts and be partially blind for the trip. If you wear contacts, you know how annoyingly painful that is.
But I swallowed my fear (*gulp*) and swam off into the ocean with Sus. Here we are: 1st time
snorkeling
in the beautiful blue waters of
Hawaii
. Awww sister moment <3
Surprisingly it was so much fun!!! No water went in my mask so I had a blast! Saw some pretty corals and fishies swimming around. We took some pictures and videos on our GoPro camera so I'll share those with you next time.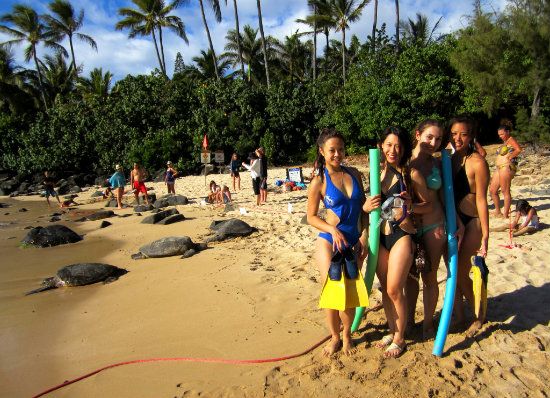 Saw
sea turtles
- check. Saw coral reefs - check. Saw fishes underwater - check. Not too shabby for my first
snorkeling
experience eh? ;) It was an awesome excursion that I highly recommend to anyone travelling to
Hawaii
to try. We all loved it! :D
Sending love,
kimberly
-xoxo-
CHECK IT OUT: Turtle Bay Resort, Chuns Reefs, & Laniakea Beach (for sea turtles).