Outfit Details:
Forever21 top, Foreign Exchange peplum skirt, BB Dakota coat, H&M faux fur collar/tights, spiked boots, belt from
Canada trip
Remember my little sisteroo Susan's 25th birthday (post
here
)? Well, one of her many birthday surprises was a trip to one of our favorite cities:
New York
! We've gone several times before but this time it was different because we were going in a big group (about 12-14 people!). It was also the bf's first time in
New York
so it was an extra special trip to share with him too.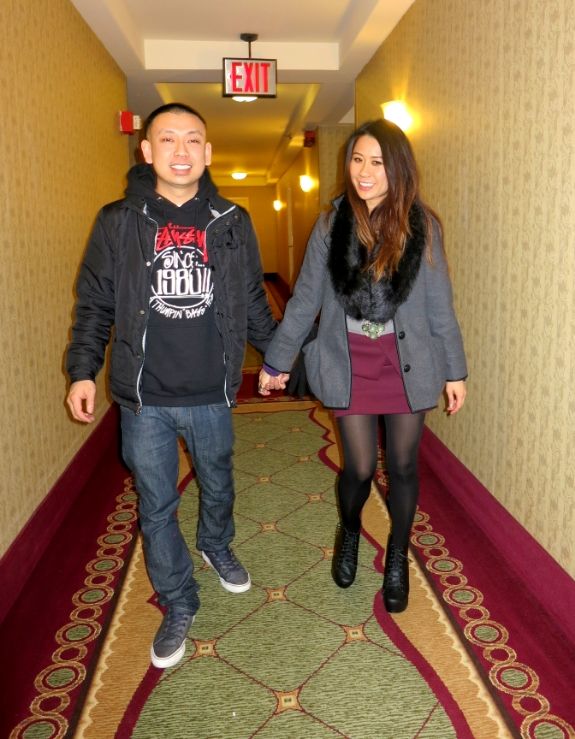 Call us crazy, but for some reason, my sisteroos and I always enjoy visiting
New York
in January. It's probably
the coldest time of the year
in
New York
but that didn't stop us from keeping our tradition! [oh and please pardon my delay in posting these pics; not going to lie, I've been very busy but catching up with everything so be excited now for lots of posts coming!] On our first night when we landed in NYC, we went out for dinner and then out to a local dive bar. For a fun and warm look, I wore a purple long sleeve F21 shirt with my burgundy FE peplum skirt (pssst at half off!). Since my outfit was mostly solid, I threw on my jeweled belt from
Canada
which added the right amount of sparkle. Layered myself up with this gray BB Dakota coat plus H&M detachable faux fur collar and voila! Ready for a fabulous night out in
New York City
. ;)
Stay tuned for more pics from my
January 2013 New York trip
!
Until next time,
kimberly
-xoxo-
Instagram/Twitter Me: @kimberly_luu